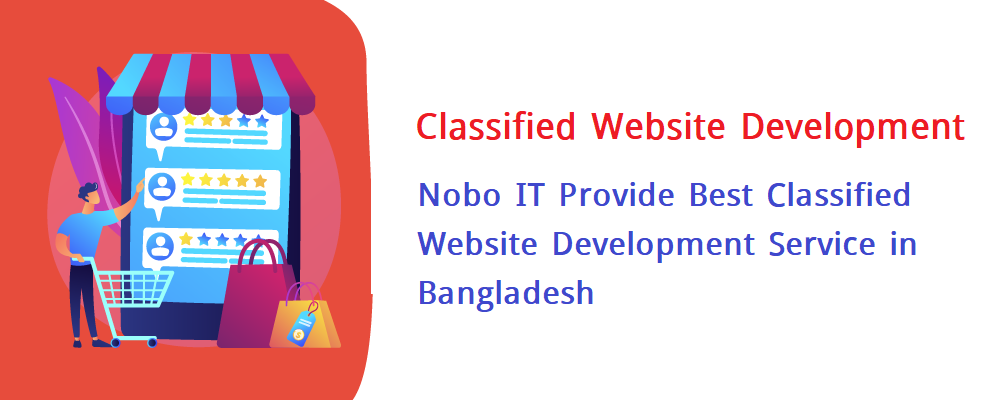 Classified Ads Platform Website Development in Bangladesh.
Classified website are being use to post ad submission, buy and sell new and used product of different category. Free Classified submission sites in Bangladesh or Free Ad Submission Sites are extremely practical for any company and website to classified or market their goods and company on the internet in Bangladesh with a total of information without any of the prices. Classified ad submission is categorized by different location and categorized. It is helpful for the people to get specific & verified products from nearest location search option. Advertiser also get chance to advertise their different products in the different ad position of Classified website.



Classified website is now going to be very popular in Bangladesh. People engage shopping from classified website where they can get products in lowest price and offer. Buyer can chat with seller before purchasing decision. Phone number also showing in the products page so that buyer can also communicate with seller via over phone. If Search engine optimization(SEO) properly used in classified website, then these could be a great sales funnel for the seller and advertiser. Member registration is being used in classified websites so that member can purchase different advertising position from classified website. They can get package where their balance could be managed by proper engagement of the user in this classified website.

Nobo IT Provides the best Classified Website Development Service in Bangladesh based on attractive ads platform. Nobo IT is one of the Best Classified Website Development company in Dhaka, Bangladesh. To get Classified Website Development Services Please email us at info@noboit.com or make a call to +880-1714-591565.
Technology We Use:
UI Design - FIGMA
Web Design - HTML, CSS & Vue.JS
Web Development - Laravel Framework(PHP)
Database - MySQL
Adobe Photoshop and Illustrator - Graphics Design
Feature of Classified Website in Bangladesh-
Search ads by city, state, country, username or keyword
Allow Adsense ads to be displayed
Control over HTML use in ads
Limit the text size of ad posting
Standard form fields can be enabled or disabled, depending or your needs (title, website,name, country etc.)
Allow or disallow image posting with ads
Automatic expiration of ads (free or paid)
Configurable ad display for AdSense placement
Allow admin to be notified when new ade are posted
Classified ad users can contact the ad poster without exposing the poster's email (blind email system, similar to Craigslist)
Allow admin to approve ads prior to posting
Allow admin to approve images prior to posting
Users can edit or delete their own ads
Admin can edit or delete all ads in the system
Allow for limiting images posting (by image size, height, width and total count if desired)
Allow image posting or shut it off completely
Control the number, filesize, height and width of images posted
Allow for image approval prior to posting
Coupon Module
Responsive Design
How Classified Website Platform makes money in Bangladesh?
Usually this business is going to profit generation by using membership subscription where user can post multiple ads based on a specific fee. This business model connecting buyers and sellers to make opportunity to make money. We will discuss 3 revenue generation stream in a classified website.
1. Google Ads Classified website use Google ads to generate income. This ads are placed in homepage and product pages. As classified website has huge number of products and each products will create a new page so that there will increase chance of Google advertising.
2. Classified Ads Different paid package is being offered for the seller to use in the post section in the Classified website will generate income for type of business. This paid service will enhance the possibility of selling of that products. This process will generate an automation process where they can get the real time view and post engagement of their advertisement.
3. For Business This is a place of advertisement in different section and place in the classified website. Where Home page and different page and place are being used to advertisement. This section is very popular to money generate from Classified website.

Major issue of Homepage Features - Nobo IT:
The homepage should be designed beautifully by suing expert User Interface (UI) Designer. Different category are being displayed in Classified website's homepage fo classified products and services filtering method.
Category Could be -
Electronics
Mobile
Home Appliances
Bike
Car
Property
Fashion
Pets & Animals
Sports & Games
Education
Business & Industry
Services
Food & Agriculture
Hospitals & Doctors
Construction
Jobs
The latest products should be displayed on the homepage along with filter options. Let's go through the most impressive homepage aspects and understand some sections one by one:
1. Display of Latest Ads in Different Sections
The latest ads can be listed in different sections with the functionality to change the category. This will help the user in quickly discovering ads most relevant to him.
2. Premium Ads
Make way for premium ads on the homepage. This will help generate a recurring stream of income. Add such a section of premium ads on your classified site's homepage to make additional payment without ruining the user experience.
Diagram for Owner -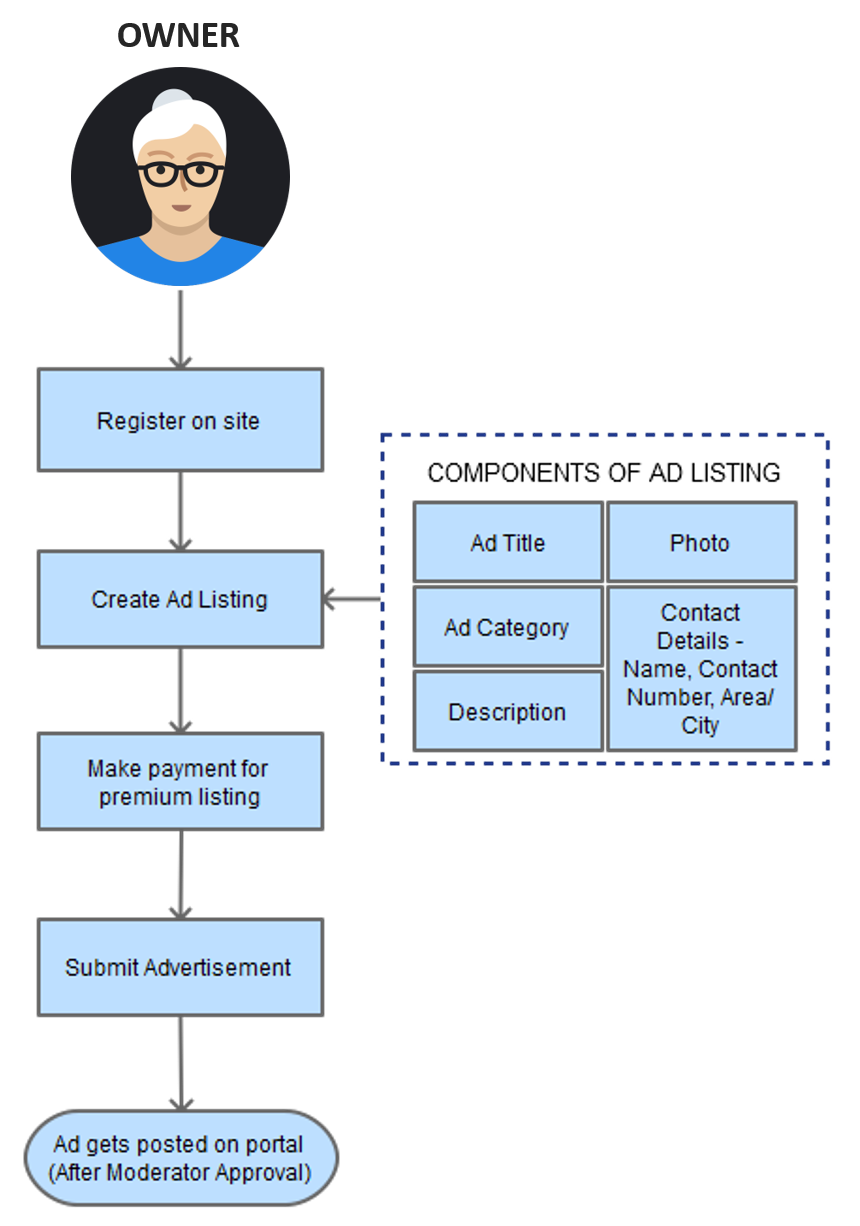 Diagram for Buyer -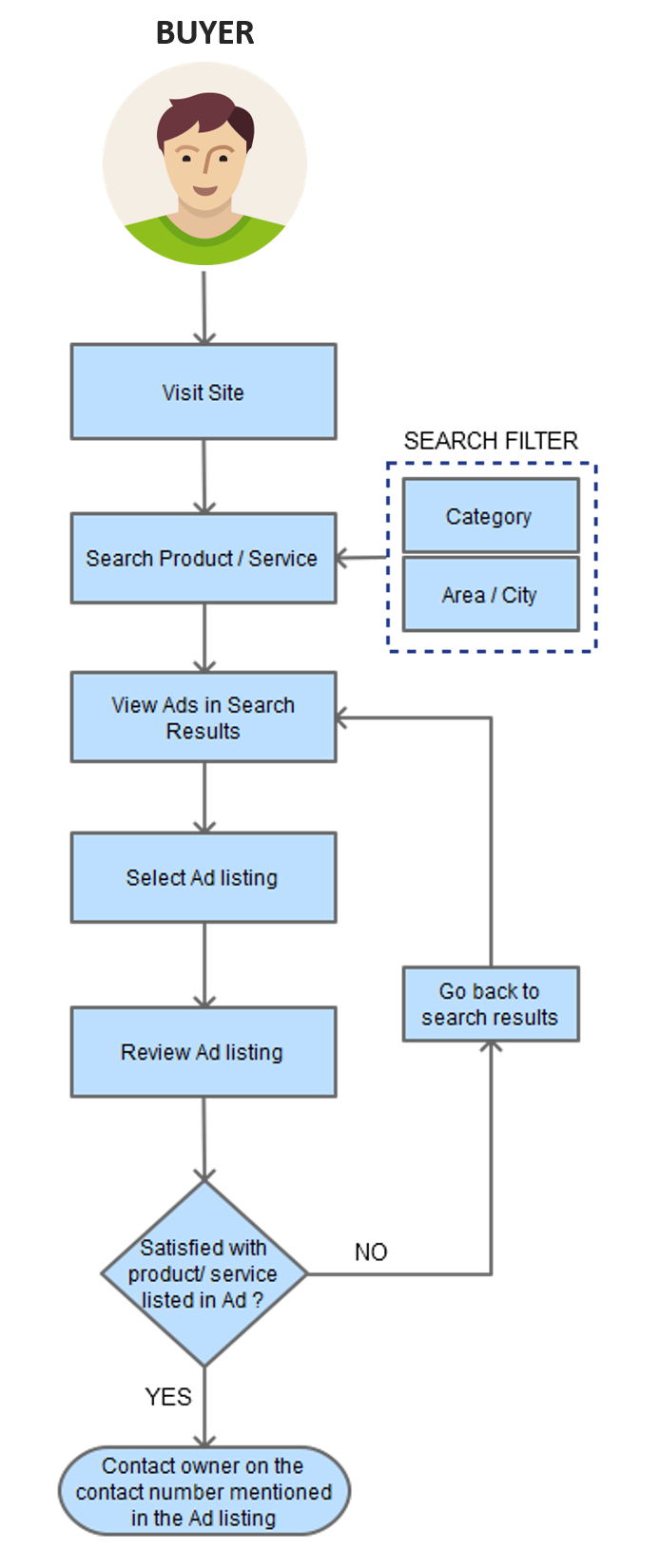 The Final Call -