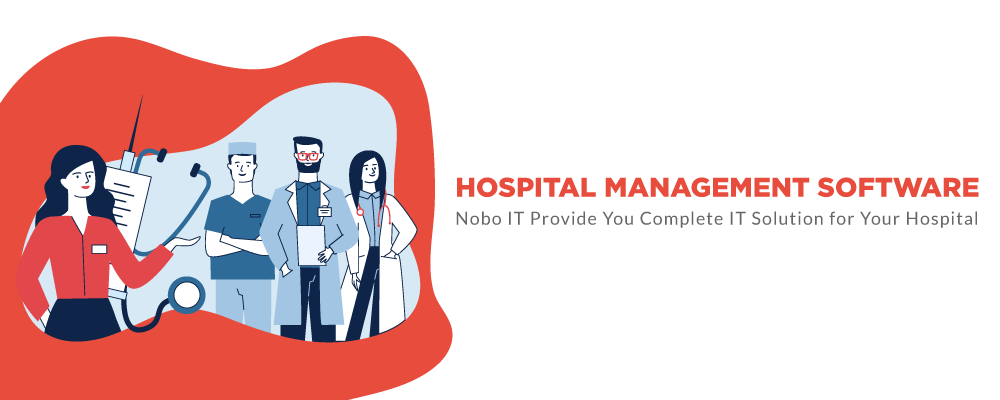 Hospital Management software:
Hospital Need to registration of Indoor and Outdoor patient,Huge number of task assign by different department which centrally use by Hospital Management System. Hospital need Hospital ERP Software to maintain their patient data,Investigation report & Billing which is solved by our programmer.We provide Software for Hospital to make it easy and comfortable. It is Inexpensive, Realistic, Very easy & user friendly, Requires minimum efforts and time to learn, Easy to implement in any time of the business, Facility to upgrade version & Complete IT solution for Hospital Management Information System
Nobo IT Provide Hospital Management software in Bangladesh

Hospital ERP Software in Dhaka, Bangladesh
Hospital Management Software or Hospital ERP Software Features
1. Manage Users
2. User Authorization
3. Database Utilities
4. Company Configuration
5. Patient Registration
6. Admission
7. Admitted Patient Treatment Monitor
8. Hospital Service Information
9. Doctor's Information
10. Cabin/Ward Information
11. Patient Billing
12. Manage Patient Discharge
13. Accounts
14.Manage Personal Commission
15. Transaction Reports
16. Control Panel
17. Diagnostic System
18. Inventory System
19.Pharmacy System
20.MIS
Nobo IT is best Hospital software Provider in Bangladesh which situated in Kazipara, Mirpur, Dhaka, Bangladesh. We Deliver Hospital ERP software for different Hospital. It has also some special features like Patient search by ID, name, contact number, national ID etc, Integrated Queue management for outdoor doctors, Unlimited user entry with different user rights, Microsoft SQL server database, Just Plug and Play Software within same network. Our company expertise in Health sector software and we research to develop Hospital Data Management software including more feature's to make your life easy and manageable. Don't hesitate to get software service from Nobo IT . Just call for your own desired. We provide Free software consultancy.