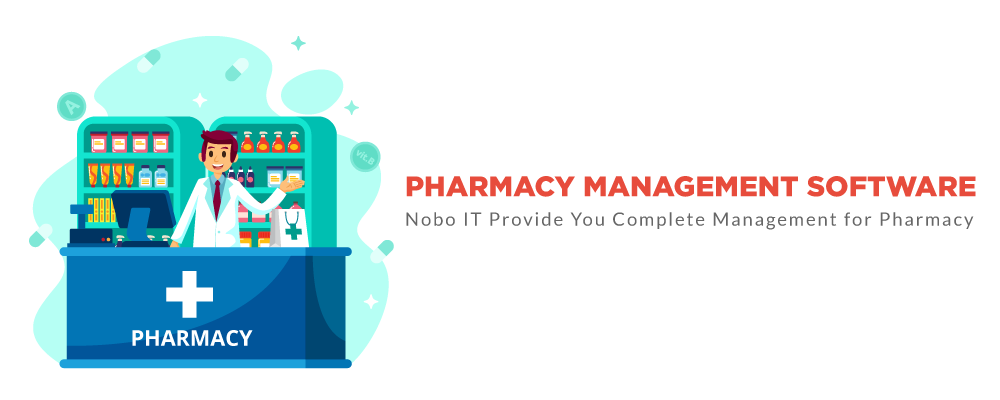 Pharmacy Management software:
Pharmacy Need to maintain medicine inventory, Medicine expire date, Make invoice, daily sales, user wise sales, Monthly report, Purchase and many more things. We develop such kind of software by our expert programmer which is easy to use . We provide Software for Pharmacy to make it easy to maintain stock, accounting and medicine inventory to make your life comfortable. It is Inexpensive, Realistic, Very easy & user friendly, Requires minimum efforts and time to learn, Easy to implement in any time of the business, Facility to upgrade version & Complete IT solution for Pharmacy Management software. We are best pharmacy management software provider in Bangladesh. Nobo IT Provide Pharmacy Management software in Bangladesh


Pharmacy Management Software Features
1. Medicine Entry
2. Medicine Sales
3. Medicine Purchase
4. Inventory Management
5. Sales reporting
6. Customer Account Management
7. Employee management
8. Barcode Generation
9. Accounts Management
10.Barcode Scanning
11.Pricing Management
12.Retail Management
13.Discount Management
14.Returns Tracking
15. Expiry Stock alerts
Nobo IT is best Pharmacy software Provider in Bangladesh which situated in Kazipara, Mirpur, Dhaka, Bangladesh. We Deliver software for Large and small pharmacy to manage your medicine and manage your business. It has also some special features like Client wise ReportsPatient search by ID, name, contact number, accurate stocking of Drugs and Many More. Our company expertise in Health sector software and we research to develop Pharmacy Data Management software including more feature's to make your life easy and manageable. Don't hesitate to get software service from Nobo IT . Just call at 01714591565 or Email us at: info@noboit.com for your own desired. We provide Free software consultancy.
Get a Free Price Quotation for Pharmacy Management Software
We provide complete solution for Pharmacy Management Software at lowest Price Ever in Bangladesh.